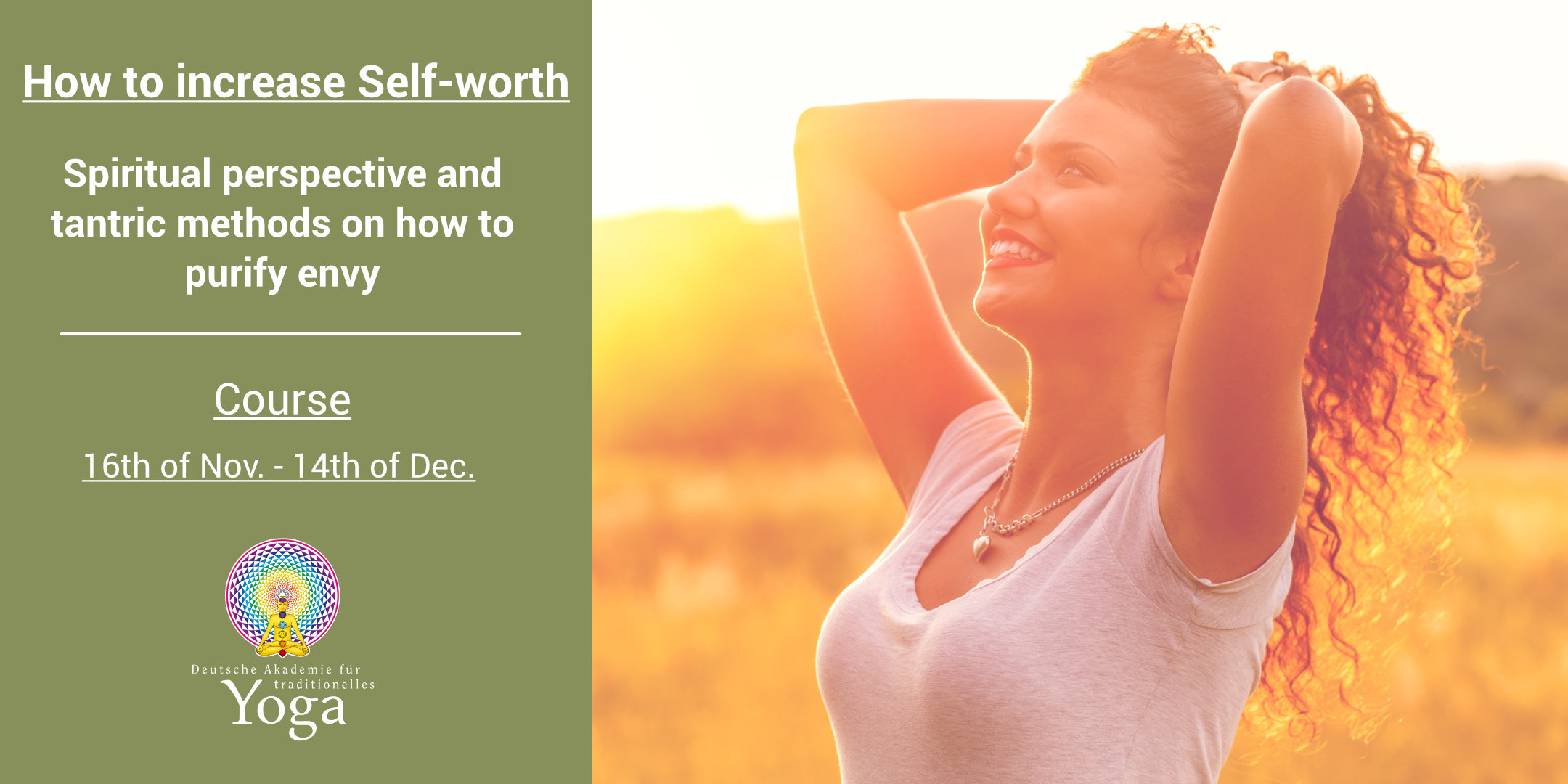 How to increase Self-worth
Part 1: Spiritual perspective and tantric methods on how to purify envy
16th of November – 14th of December 2023 | A course only for women

About the course
In a circle of women, you will learn to increase your self-worth by alchemizing resistances in your being that is holding you back from fully blossoming up and stepping into your feminine energy.
In part 1 we will focus on purifying envy by starting with self-love and applying kindness, benevolence and empathy for others. This will help you to achieve a more balanced and harmonious life and to amplify the state of Shakti, the supreme feminine, in your being. And by this you will be able to awaken your soul and become the best version of yourself.
What you will receive
In 5 consecutive sessions we will dive deeper into the subject with various methods to empower you and to purify envy in our being.
In each session, we will have a theoretical part followed by exercises. On top you will get homework from one session to the other, which will help you to deepen the knowledge you have gained.
To support this process of purification we will work with meditations representing the Godly Attributes such as Goodness, Harmony, Love and many more.
Overview of the sessions
Session 1: Intro & Kindness
Presentation on envy from a general and spiritual perspective
Group exercise
Meditation with the Godly Attribute of Godly Goodness
Session 2: Self-love
Presentation about self-Love, self-confidence and inner harmony
Exercise: Bring an object that is precious to you
Meditation with the Godly Attribute of Godly Harmony
Session 3: Empathy & Active love
Presentation on empathy – the ability to understand and share the feelings of others
Exercise on active love
Meditation with the Godly Attribute of Godly Love
Session 4: The Law of occult offering
Presentation on the Law of occult offering: effective methods how to apply and to cultivate generosity
Group exercise
Meditation with the Godly Attribute of Godly Generosity
Session 5: Gratitude
Presentation on how to cultivate gratitude
Exercise on applying gratitude
Meditation with the Godly Attribute of Godly Purity
Review and sharing
Please note that this course is within the context of the Tantra Yoga for Women group at Deutsche Akademie für traditionelles Yoga e. V.
It is not a requirement to be enrolled at this group in order to participate at this course.
Tantra Yoga for Women aims to awaken and amplify femininity called the state of Shakti in Sanskrit and teaches how to be a spiritual woman in modern times.
A new group in English will start later this year in Berlin.
Dates of the course

The sessions take place Thursdays from 18:30 – 20:30 at our centre in Berlin.
16th of November 2023
23rd of November 2023
30th of November 2023
7th of December 2023
14th of December 2023
Due to the structure of the course it is only possible to join the course at the first session.
Price for all five sessions
Normal: 77,00 €
Members: 55,00 €*
*Members of our non-profit association Deutsche Akademie für traditionelles Yoga e. V.
About the course instructor
Niluma Anne

For about 5 years, I am engaging myself in spiritual Women groups, also called Shakti groups, in which we amplify our femininity and work on our spiritual development in order to use the full potential as a woman, with which we are naturally endowed and which is worth to be awaken at a maximum in this lifetime.
I am participating at the Tantra Yoga for Women Intensive Training, which is a Teachers Training to lead spiritual Women Groups and close to my graduation. This journey helped me very much to blossom up myself and now I would like to share this knowledge with other women.
Sign-up
Please write an email to berlin@traditionelles-yoga.de
You will receive the payment details upon your registration. You can pay via bank transfer, PayPal or cash at our reception. Please note, that we do not offer other payment options at our reception at the moment.
Cancellation policy
Cancellation until October 16th 2023: Full-refund
Cancellaton between Ocotber 17th –  31st 2023: 10,00 € cancellation fee
Cancellation between November 1st – 16th 2023: 50 % cancellation fee (in respect to the paid price)
Cancellation after November 16th 2023: No refund
Address
Deutsche Akademie für traditionelles Yoga e. V.
MahaYoga Zentrum
Brunnenstr. 147
10115 Berlin
Directly at underground station U8 Bernauer Str. (elevator exit).
Enter our premises through the big white gate and walk until the end of our garden. At the end of the path you will find our reception on the right.