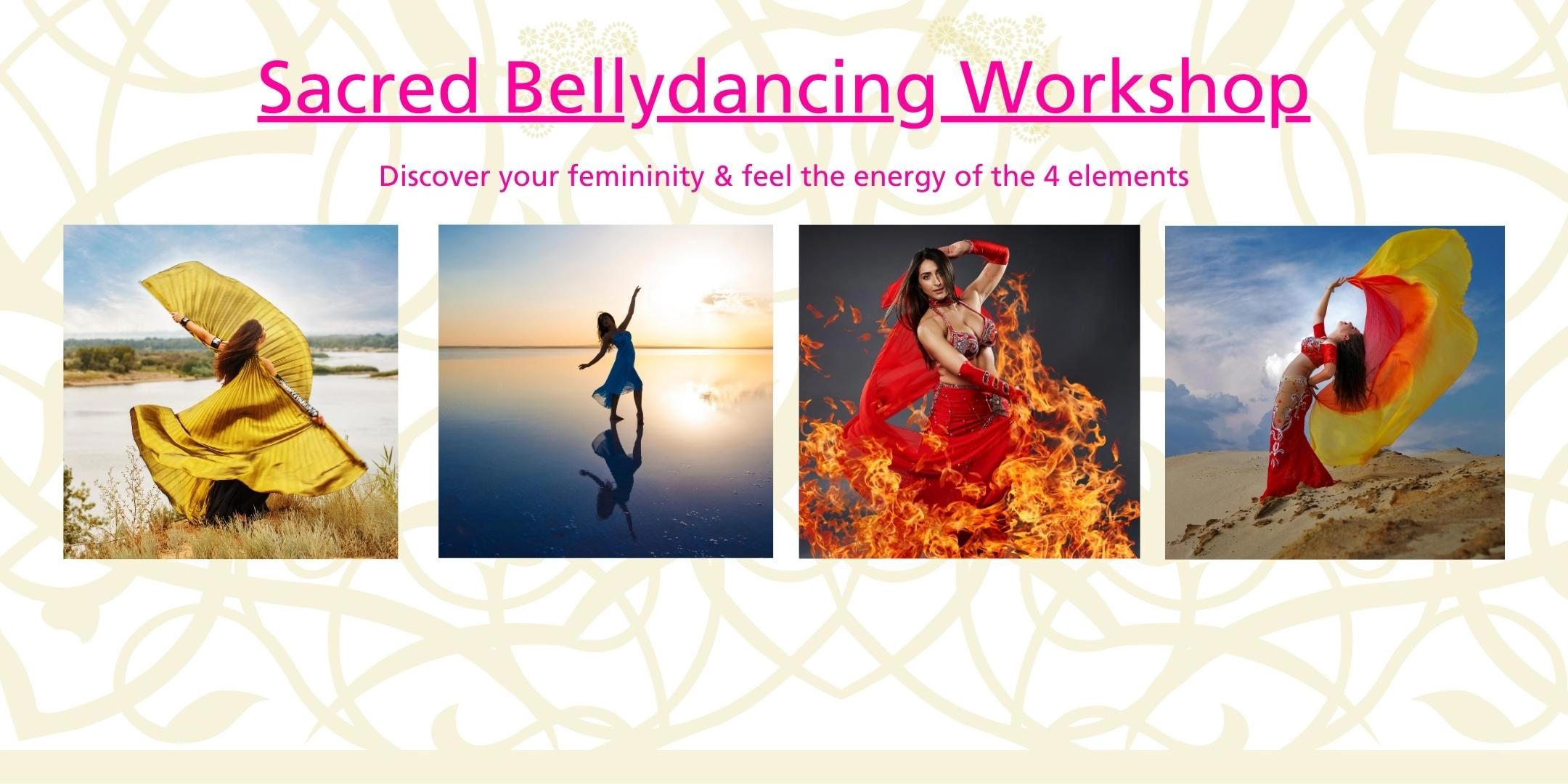 Sacred Bellydancing Workshop
Discover your femininity and feel the energy of the 4 elements
16th of April 2023 15:00 – 17:30 at MahaYoga Zentrum in Berlin
Only for women | Limited number of participants, only six places available
There are no free spaces left for the workshop.
What you will experience
You will discover the energy of the four elements. Our world is fundamentally made out of these four elements which are earth, water, fire and air.
As women we have naturally access to nature and also an easier access to the energies which surround us.
In a small, cozy circle of women, you will learn how to feel and to express the elements. You will get a theoretical introduction into these four elements, along with their characteristics. This will be guided by short mediations which are exemplifying the specific resonance of vibration of the earth, water, fire and air.
In a playful way, you will learn movements and little sequences of dance, which are corresponding to that specific energy. By this, you can resonate, feel and manifest this energy and level of vibration in your own being.
This workshop is not about having a perfect choreography in place, but to re-connect with your body and to gain self-confidence. It will give you space to blossom up and to come in touch with your feminine, sacred nature.
Any level of dancing skills is welcome!
Program
1) Intro: Elements (earth, water, fire & air). For each element there will be a short presentation of the qualities.
2) Warm up exercises, dancing and feeling the energy of the element on specific music and movements that will be representative for the element (for example shimmy for fire/tejas).
3) Freestyle dancing/little choreography.
4) Sublimation, meditation and gratitude.
Niluma Anne

For about 5 years, I am engaging myself in spiritual Women groups, also called Shakti groups, in which we amplify our femininity and work on our spiritual development in order to use the full potential as a woman, with which we are naturally endowed and which is worth to be awaken at a maximum in this lifetime.
I am participating in the Tantra Yoga for Women Intensive Training, which is a Teachers Training to lead spiritual Women Groups and close to my graduation. This journey helped me very much to blossom up myself and now I would like to share this knowledge with other women.
What you should bring with you
Scarf for the hips, dance veil or thin scarf
Price
Normal: 35,00 €
Members: 30,00 €
Sign-up
A sign-up beforehand is required due to the limited number of participants.
Address
Deutsche Akademie für traditionelles Yoga e. V.
MahaYoga Zentrum
Brunnenstr. 147
10115 Berlin